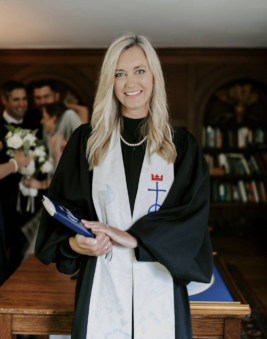 Rev. Elizabeth Duffy, Pastor
Are you engaged to be married and looking for a wedding officiant? Fill out the form below to connect to Pastor Duffy.
Pastor Duffy officiates weddings following the UCC liturgy both inside and outside of the church. Before the wedding, you will meet with Pastor Duffy for pre-marital counseling and to plan the ceremony. You can access the pre-marital counseling questions here.
There is no fee for church members to have Pastor Duffy officiate their wedding, however there is a fee for non-members of $150. This non-member fee covers premarital counseling, planning, the rehearsal and the ceremony.
Pastor Duffy will also officiate same-sex weddings in the Sanctuary and off-site.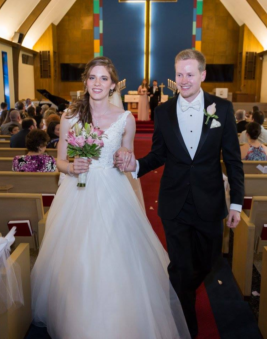 Sanctuary Weddings
Would you like your wedding to be in the church? As long as our calendar permits, we are happy to plan your wedding in the sanctuary.
For church members there is no fee for the use of the Sanctuary, however there is a fee for musicians (see below).
For non-church members, there is a fee of $200 for use of the Sanctuary; this fee covers both the rehearsal and the ceremony. It does not, however, cover the musicians.
For musicians, please let us know your preference (pianist, organist, praise band, or other). The fee for a church musician is $100 for the ceremony and an additional $50 if you would like them to attend the rehearsal (this is a per-musician fee, and will be increased if you would like multiple musicians).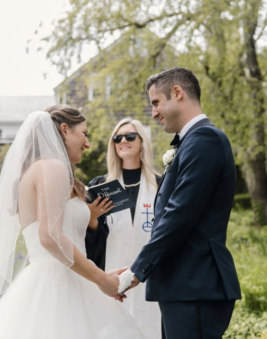 Outdoor/Off Site Weddings
Looking to hold your wedding outside or at a different location? Pastor Duffy also officiates weddings off site.
Pastor Duffy has officiated many weddings outdoors and in banquet facilities. Do not hesitate to ask if you would like an off-site wedding. If time and schedule permits, she will be happy to officiate off-site.