The Church building is slowly beginning to re-open.
Live worship is on Sunday at 10am and is limited to 50% attendance. To sign up to worship live, please do so in the Breeze App or call 836-6220 and leave your name on the voicemail to reserve a spot. Worship also continues to be streamed every Sunday at 10am and can be viewed on Facebook live.
The Food Pantry is open Mondays from 11am to 1pm.
Free Community Dinners are available via drive-thru the last Saturday of every month from 5-6pm (or until we run out).
Be blessed and stay healthy!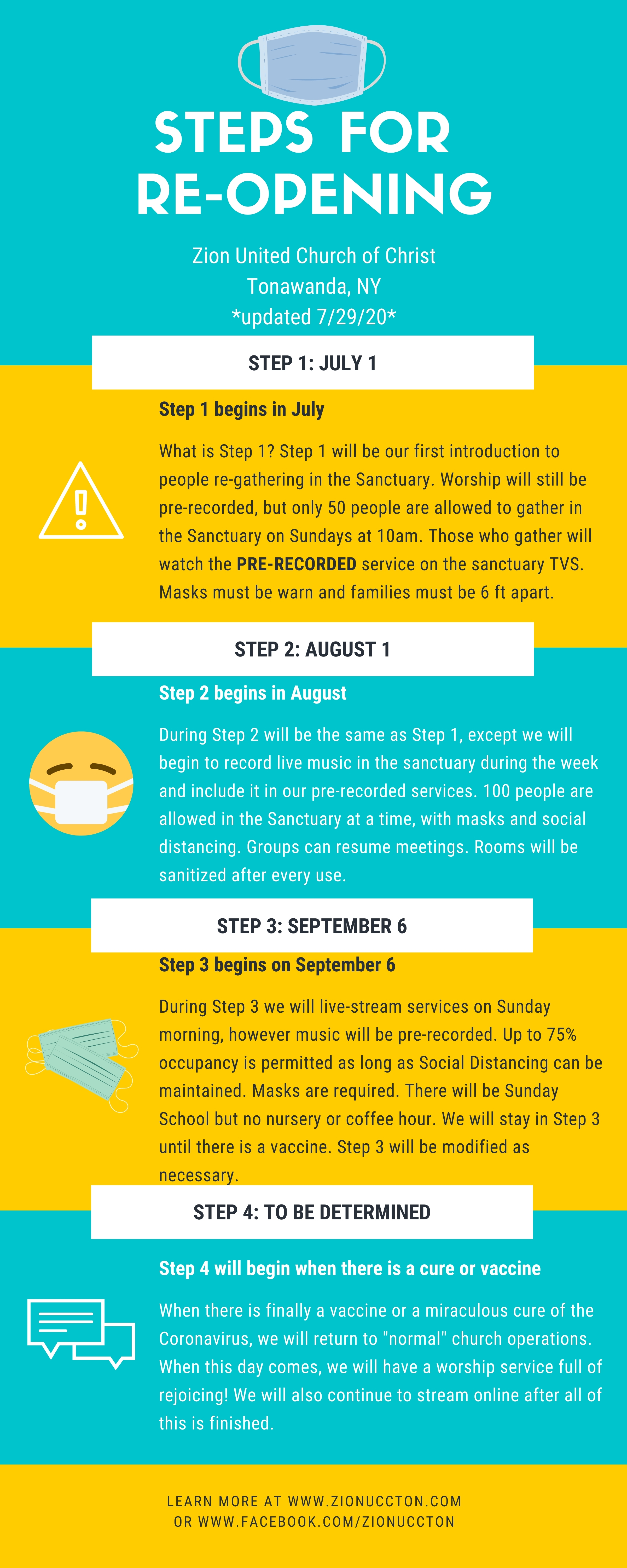 We are a Christ-centered, inclusive community of faith, devoted to following Jesus, sharing the Gospel, and welcoming all.
Worship with us on Sundays!
We have two Sunday services during the School Year:
During the pandemic, worship will be livestreamed at 10am.
9am Contemporary Worship & Sunday School
10:30am Traditional Worship
Summer Worship 9:30am
Check the
calendar
for all worship times.
Oct 18, 2020

Lean into God

Sep 20, 2020

The Art of Complaining

Sep 13, 2020

Lift Each Other Up

Mar 29, 2020

A God Who Restores

Mar 9, 2020

Born From Above

Mar 3, 2020

Temptation: What really matters

Feb 23, 2020

40 Days with God

Feb 16, 2020

Easier Said Than Done

Feb 10, 2020

Salt and Light

Feb 4, 2020

What Should I do?
Zion United Church of Christ 15 Koenig Circle Tonawanda, NY 14150
www.zionuccton.com 716-836-6220