Q: Who are we?
A: We are a Christ-centered, inclusive community of faith, devoted to following Jesus, sharing the Gospel, and welcoming all.
Q: What Denomination is this church?
A: We belong to the denomination of the United Church of Christ. In 1957 the Congregational & Christian Churches merged with the German Evangelical & Reformed Churches to create the UCC. To learn more about the denomination, click here.
Q: Is this Church Open & Affirming? What does that mean?
A: Yes, we are an Open & Affirming Congregation. That means that no matter who you are, you are welcome here. We welcome people regardless of gender, sexual orientation, race, age, ability, ethnicity, socio-economic status, marital status, or political ideology. We are also striving to become fully handicap accessible.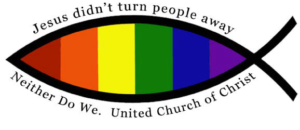 Q: What do I need to wear to church?
A: You can wear jeans and a t-shirt or you can wear a suit, it doesn't matter to us. Some church members like to dress to the nines while others prefer to wear comfortable clothes. What you wear to church is up to you.
Q: What time are the worship services?
A: We have a 9:00am Contemporary Worship Service and a 10:45am Traditional Service, both on Sunday morning. However, during the summer (July 1 to Labor Day) there is only one worship service at 9:30am. Check the calendar if you are looking for the worship time of a specific Sunday.
Q: Do you have Sunday School?
A: We do have Sunday School during the 9am Worship Service. For more information, and for an enrollment form, please click this link.
Q: Do you have nursery care?
A: Yes, the church nursery is open and staffed during our worship services.
Q: Do you have Youth Group?
A: Yes, the first and third Friday of every month from 7-10pm. The youth group also goes on annual summer mission trips.
Q: Can I come if I'm not a member?
A: Absolutely! We would love to welcome you to Zion UCC. If you are interested in becoming a member, that's great. If you prefer to worship as a guest, that is fine too.
Q: Do I have to tithe a certain amount?
A: Nope. What you decide to give for an offering is completely between you and God. We understand that many people are going through difficult times, and sometimes members simply don't have money to give so they give of their time and talents instead. Giving of time and talents is just as important as giving of treasures. We encourage faithful stewardship, but we will not push you or ever make you feel down about the amount that you're able to give.
Q: Who is welcome in the church?
A: Everyone! We are an inclusive congregation and we believe that no matter who you are, or where you are on life's journey, you're welcome here! Jesus teaches us not to judge others, and we take that lesson to heart. So truly know that you are welcome here.
Q: What is the music like in church?
A: It depends on the worship service. At the 9am Contemporary Service we have a small praise band that plays modern music with a piano and guitars. At the 10:45am Traditional Service we have an organ, a choir, and traditional hymns. You are welcome to come to whichever service you prefer or switch back and forth from week to week as some of our members do. You can listen to the 9am worship service online on our sermons podcast.
Q: What do you believe?
A: We are faithful Christians, striving to love the Lord with all our heart, soul, mind, and strength, and to love our neighbors as ourselves. We believe that the Bible is inspired by God, we do not, however, believe that the Bible is inerrant.
Q: Who can be Baptized?
A: We baptize infants and adults.
Q: Who can be Married?
A: Anyone can be married here at Zion UCC, with the discretion of the Pastor. If you are interested in having your wedding here, please read the information on our wedding page found here.
Q: How often is Communion administered?
A: We have Communion the first Sunday of every month. If you would like to receive Communion but cannot come to church, please talk with Pastor Elizabeth and she or a member of the Pastoral Care Ministry Team will visit you with communion.
Q: Can I talk to the Pastor?
A: Absolutely. Call Pastor Elizabeth at 836-6220 or send her an email.